Asep Mulyana
Asep@telkom.net.id
Jl. SOEKARNO HATTA
Bandung, Jabar 40222
Indonesia
---
Special Edition Page.
At 8th Dec' Asep Syamsul Hadi and Santi have wedding in HI (Hareupeun Imah) at Bojong soang city. Here's the Photo.....


Selamat menempuh hidupbaru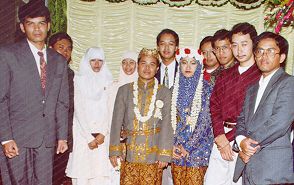 Bandung, 8 Desember 1996
dari kami,
Asep Mulyana (it's me!), Ervan, Lia, Usi, Ahmad, Andre, Andi, Hendra & Dudy



Thanks for join to my page. I hope we can become a friend.First I will introduce my self to you :

My name is Asep Mulyana....but you can just call me Asep.

I was born in Bandung, Indonesia at October 24th 1971, By the way you knew Bandung and Indonesia ? Its the beautiful Country, You should go here.

Now I am an employee of Indonesian Telcom Company, but before I work there I must pass from my College in STT Telkom Bandung.

There's my Biodata if you want to know more about Us you can mail me. Thanks
---
My Favorite Sites
You can know about Indonesia here
It's my Office now
My College STT Telkom
you can search your need from here
Have you submit your school ?
Make a free E-mail
Get Free E-mail and Home page here
You can chating with me here
Is this the Center of Indonesia ?
Downloadable Shareware and Freeware, My Fave Site
---
Thanks God This page has Viewed

Times.......